Read stories about this character here!
Mae Reed Bio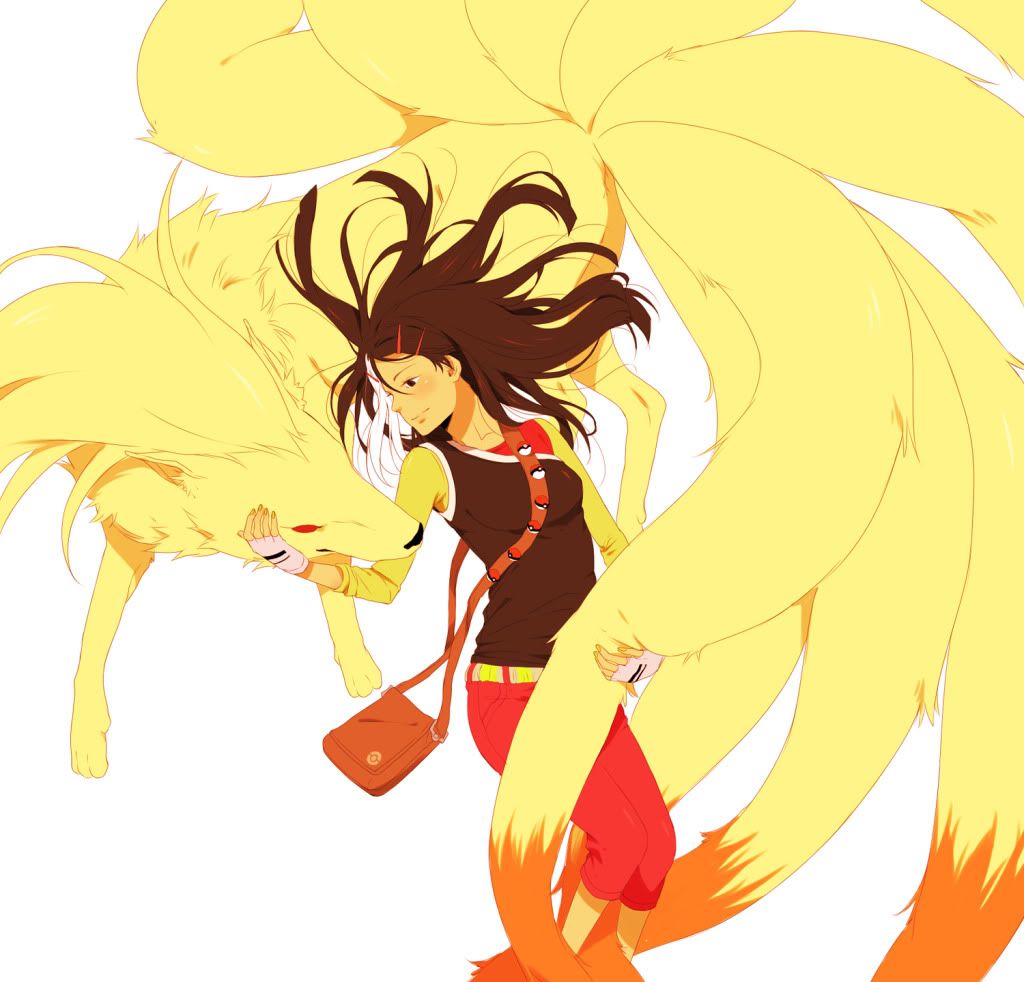 General Info:
Name: Mae Reed
Age: 15 [new generation introduction age]
[However, we see her grow from a young child to an adult]
Hometown: Littleroot
Region: Hoenn
Introduction:
Mae is from a town called Littleroot. She has grown up there since birth. Everyone from the town knows her because of this- however, many other kids made fun of her. Mae was never interested in Pokemon. Her parents were successful and important "business" people. They would trade off Pokemon for a profit. They also ran several businesses across the region. Since her parents always had a busy schedule, Mae was mainly taken care of by her grandparents. She had a very, very close relationship with them-unlike the relationship she had with her parents. They would tell her stories of Pokemon and taught her to love them as friends. They were also the ones who told her about the legendary Pokemon Mew, which truly sparked her interest in Pokemon.
Mae decides to leave her hometown after her parents told her to "find something to do" with her life. She planned to go off on her own, but because she didn't have a specific goal she was nervous. The night before she planned on leaving, her childhood best friend Nero asked her to travel along his side and she accepted. Read a short story about the kick off
here
.
Personality & characteristics:
-Very kind hearted and loving
-Has a great interest in learning about Pokemon and their history
-Loves food
-She's funny and likes to lighten the mood when arguments break out
-Doesn't like to cry in front of others, especially those whom she loves
-Very organized
-Horrible with directions
-When tired falls asleep quickly, as in, in seconds
-She is very stubborn at times
-As a young child, she's a pushover
Physical characteristics:
-Slightly tan skin
-Dark, dark brown eyes that practically are black
-Black hair
-At a young age, she dyes a steak of her hair on the right side of her head white in memory of her grandmother's long locks.
outfits
Relationships:
Nero Heartly
Nero is Mae's childhood friend. They have known each other as children as they grew up in the same town but not well. At the age of six, when Nero found her crying on a swing by herself after being teased by multiple kids about her Pokemon situation. He comforted her and they got to know each other well after that day. As their friendship grew throughout the years, so did Mae's feeling for Nero. Our stories reveal their wonderful moments together as well as their hardships. As young teens their relationship hit a hard rock bottom and a simple secret keeps them apart for an entire year. They later become reunited again as a couple.
Roy Blackwell
Roy is comes from a wealthy family much like Mae; however, his family is associated with casinos and stores. She has known him since she was young and he has always had a huge crush on her. He's respectful, mature, and very kind hearted, but Mae's feelings aren't quite the same for him. Nero and Roy seem to quarrel over Mae often when they see each other. After her relationship with Nero ends, Roy gathers his courage to ease into a relationship with Mae.
Darren & Elena Reed
Darren is the grandfather who cares after Mae almost her whole life as her parents are never around. He started a small family business that began with Pokemon related merchandise and became a huge chain store across different regions. He is now retired and lives in a large mansion with maids and a butler to keep him company. He has a strong heart and always stands by Mae's choices.
Elena is Mae's deceased grandmother. She died when Mae was a young girl, but raised as her own while she was alive. She played a very important role in Mae's life and pushed Mae to believe in herself. She was the one who perked Mae's interest in the legendary Pokemon Mew and pushed Mae to be strong and believe in herself.
Ellest
Ellest bumps into Mae accidentally in a Pokemart one day and gradually their friendship grew from that point. She is a grade above Mae and acts as her older sister; often found comforting Mae when she's down. She  watches closely as Mae and Nero's relationship take a step into the next level. She acts as the tough hearted one in the group when it comes to displaying emotions, but she's actually a very nice, sweet, and caring girl. Ellest accompanies Nero, Mae, and Carter on the journey to find Lugia, but she departs shortly after the journey to follow her own dreams. She hides her sadness when she is parting ways with Mae and just tells her to keep her chin up after the depart
Carter
Carter and Mae bumped into each other while she was tagging along side Nero for one of his journeys. They didn't meet on the greatest terms as Sid, Carter's totodile, kept trying to steal Mae's under garments from her bags. Mae first sees Carter as just Nero's best friend, but their friendship grew as well when she finally let her wall down when around him. He is often found teasing her and making her blush about Nero. Mae herself can be founding punching Carter or scolding him about the behavior of his totodile.
Lily Rockford
Lily is the cashier at the Pokemart who, ever since they were young, has had a rocky relationship with Mae. She has a huge crush for Nero who she's had her eye on since they were young teens. However, she knows deep down Mae and Nero are perfect for each other- so when she finds out about their breakup, instead of taking Nero for herself, she simply tells him he's "not smart" for causing the break up which surprises Nero.
Pokemon:
(In order of attainment)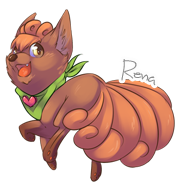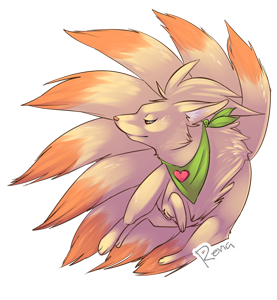 Vulpix - Rena - ♀
Mae found Vulpix hurt and abandoned when she was at the young age of 6. She wasn't sure what do to help heal it so with the help of her grandparents she was able to bring it back to full health. She is Mae's first pokemon.
-Captured with a Heal Ball
-Stubborn and only listens to the Reed Family
-Has a big appetite
-Lazy if not given orders
-Has a lime green bandana with a pink heart pinned on it
-Has a bad temper when it comes to others she doesn't trust
-Enjoys venturing off on her own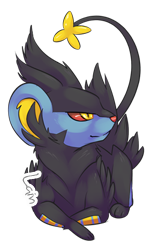 Luxray – Lain- ♂
One stormy day, Mae was supposed to be picked up from school. One of her parents were supposed to pick her up, however, both were busy and thought the other was going to give her a ride. This left Mae alone outside during a storm. She tried to walk home, but it was down pouring and she had to hide in an alley. Wishing her Vulpix was by her side at the time, she sat alone in the dark and cried. A Luxray which happened to roam around her town often, caught a glimpse of her. He has always seen has her as a lonely, kind hearted girl and although he did not to approach her, he felt sorry as she cried. He came over to her and comforted her during the storm and they never parted ways since.
-Captured with a Friend Ball
-Very hard for others to approach - has bitten Nero once when Nero thought "Since Vulpix likes me, Luxray will too"--- wasn't true..
-Extremely protective of Mae
-Will venture of on his own
-Mae's strongest Pokemon
-Is often Mae's "pillow" when she's tired
-Has a respectful rival like relationship with Nero's Arcanine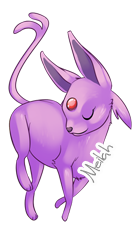 Espeon - Meilah - ♀
Mae was given an Eevee at a young age by her best friend Nero Heartly. Unsure of how to "train" Pokemon, Nero assists her over a period of five months until Eevee transforms one morning into a beautiful Espeon. This transformation happened right after Nero's Eevee transformed into an Umbreon the night before.
-Given to Mae as a gift from Nero
-The most empathetic out of all of Mae's pokemon
-Is very close to Nero's Umbreon and Nero himself (as Nero helped trained Meilah in Eevee form to become an Espeon)
-Enjoys battling
-If out of her Pokeball, Meilah enjoys staying close by Mae's side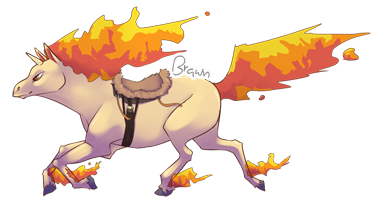 Rapidash - Brawn - ♂
Mae was given a Rapidash as a parting gift by her parents at a tender age. They were hoping it would encourage Mae to battle with a Pokemon in its evolved form already, however, she instead chose to have the Rapidash as more of a companion. She named her Rapidash, Brawn.
-Given to Mae as a gift from her parents
-Is fond of the granny smith apples grown at the Reed's estate
-Very reliable
-Mae's favorite way of travel is on Brawn's back
-Has a very close relationship to Mae and her best friend Nero (those are the only people Brawn won't burn with his flames)
-Has a very tough time trusting other people
-Courageous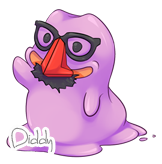 Ditto - Nicknamed "Diddy"- ?
Mae found Ditto as she walking through some tall grass one day. However, when she first found it, it was a Pikachu. Mae found something funny about the Pikachu, it's face looked.. like a Ditto's face. She knew Dittos can't keep their form well when laughing, so she shouted out some jokes. The Ditto thought they were funny and lost its transformed form. Mae didn't have to try hard for the Ditto to like her. He came up to her right away. Seemed as if he wanted a friend. She offered it a Pokeball and asked it to be hers and it accepted.
- "Captured" with a Premier ball
-Mae's "clown" of her Pokemon
-He likes to cheer Mae up when she's upset
-Mae is training her Ditto so that it can maintain the original "face" of other Pokemon for long periods of time
-Likes to be held by Mae
-Nicknamed "Diddy" by Mae because she thought it was cute
-Although he seems weak, Ditto is one of Mae's higher level Pokemon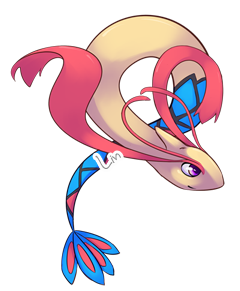 Milotic - Lin - ♀
Mae's parents were going to sell Milotic to an interested businessman. Mae's parents are rich and owned several lake areas where they raise some Pokemon- mainly for business purposes. Mae helped raise Milotic and couldn't bear to see it simply get sold off. She begged and begged her parents to keep it. After weeks of persistence, her parents allowed her to keep Milotic as long as she planned on finding  what do with her life soon.
-"Captured" with a Cherish Ball
-Lin has known Mae as a small child, but their bond grew stronger once she saw Mae fighting with her parents to keep Lin away from the businessman
-Prefers not to battle
-Extremely strong
-Mae hardly ever calls Lin out to battle
Lin is the "leisure" Pokemon out of Mae's group and is commonly called out when Mae is around deep water and wants a swim
-Very kind hearted and will swim away if there's much negativity going on around her
Read official stories involving Mae
here
.
Art of Pokemon (for biography) was commissioned work done by
~
willow-nicole
.
Other art by
*
danzzila
Only, I,
`
MzzAzn
have permission to use this artwork.

Roy Blackwell Bio and ReferencesRead stories about this character here!
Roy Blackwell Bio

General Info:
Name: Roy Blackwell
Age: We get to know Roy at age 20
[However, we meet him as a child and see him grow into an adult]
Hometown: Originally from Littleroot, however, can often be found in Mauville [travels often]
Region: Hoenn
Personality & Characteristics
-mysterious and clever
-very popular especially with the ladies
-comes from a very wealthy family
-very patient, but understands the value of time
-a perfect businessman and negotiator
-is a smart ass if he feels uncomfortable
-enjoys riding his shiny Rapidash
-enjoys afternoon tea and snacks
-had a severe stuttering problem as a child but overcame it, however, around Mae Reed he sometimes still stutters when he's nervous.
-enjoys travel
-enjoys gard

Nero Heartly Bio & References

If you see mistakes, please note `MzzAzn so she can fix them because I'm lazy yay! - mzzy wrote this ^_^
Nero Heartly Bio

Nero Heartly
Age: 15 [new generation introduction age]
[However, we see him grow from a young child to an adult]
Region: Hoenn
Hometown: Littleroot Town
Introduction:
Nero is a fifteen year old boy who lives with his grandfather in Littleroot Town located in the Hoenn region. He lost his mom during the early years of his life, and his father has been missing since he was 5 years old, after going to a journey through the sea and had sunk the board.
His grandfather, Darren Heartly, is the only family remaining that he has. His grandfather is also a famous Pokemon trainer, who has taught everything there is to know about Pokemon to Nero. Since Nero was a child, his grandfather always told him of his adventures. He told him about how many Pokemon he saw and caught, as well as all the battles and